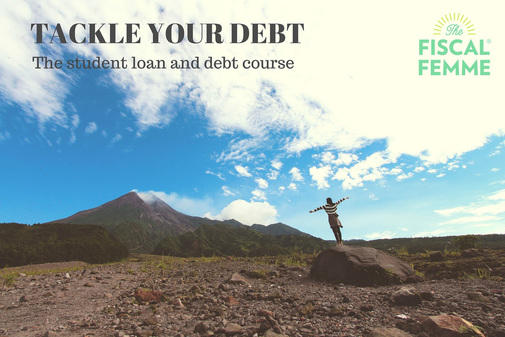 ​Ever wonder,
"Where is all my money going?"
Or notice that you never have any money left over to save?
You are not alone. The Tackle Your Debt Course
for student loans and credit card debt is for you! Understanding how debt works and coming up with a plan puts us back in power financially. Here's what Ashley will cover:
CLASS #1: Setting You Up for Success
CLASS #2: Loan 101 & Jargon Demystified
CLASS #3: Prioritizing Your Money and Important Calculations
CLASS #4: What Makes Up Your Credit Score & How to Maximize It
CLASS #5: Finding Room in Your Budget for Loans & Debt
CLASS #6: How to Track & Celebrate
And guess what? It doesn't have to be hard. What Ashley will share with you will actually make the process clear and dare I say, easy!
If you've been looking for a solution to help you take control of your finances once and for all, NOW IS THE TIME. After this program, you will break bad money habits, flush money toxins and feel confident, powerful and in charge of your financial health.
Here are some of the positive side effects you can expect from the program:
Reduced stress and guilt
Mental clarity and purpose
Confidence
Happiness and fulfillment from your spending
Huge money savings!
Money back guarantee if you're not 100% satisfied
Click HERE to learn more!!